The world features a full course that will help you learn and practise your instrument. By exploring the world and completing all the materials you come across on your journey, you'll discover and learn more about your instrument and about the world of music as a whole.
1) Click the Start button. This will take you to your instrument world. If you're learning a stringed instrument, the satellite will help you tune it.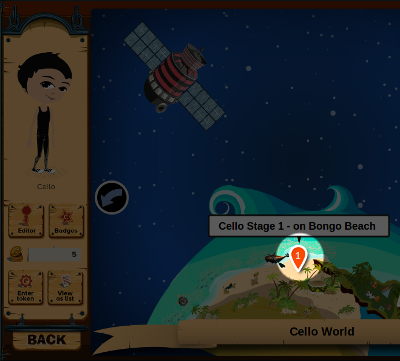 2) First steps.The numbered markers show you each of the steps you'll need to take. Tap or click a marker to visit the stage, or use the arrows to spin the world to see the stages you'll soon be visiting. Stages you can visit are coloured red, and stages you've yet to unlock are grey.
Following and unlocking these stages will take you all the way from first starting out with your instrument to your first ABRSM Music Medals exam and beyond. On the way you'll explore beaches, swamps, castles and cities, and even go up into the clouds!
When you start out you'll only be able to visit Bongo Beach. However, as you complete resources here you'll unlock other areas of the world, each with their own materials and challenges to work through.
Tap or click on the glowing icon on top of Bongo Beach to zoom down further.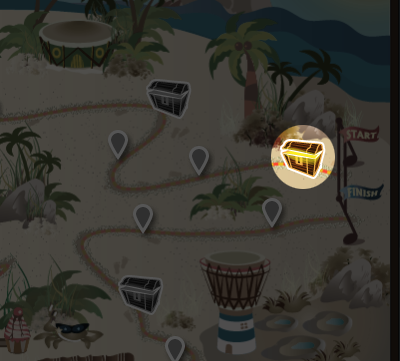 3) Now we're looking at Bongo Beach. We can see the path that will take us through the beach. Each step along this path contains one or more resources that you'll need to complete in order to unlock the next one.
You might also notice some treasure chests. These are special steps that contain lots of materials, as well as extra rewards for completing them.
Tap or click on the first step to play your first resource.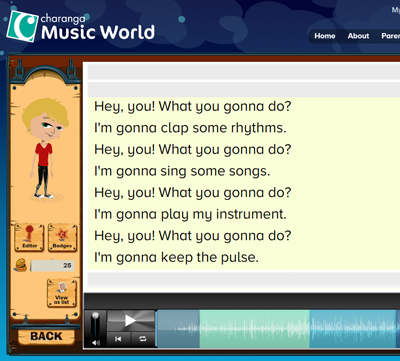 4) Follow any instructions you see on screen to complete the resource. There are loads of different resource types - have a look at this article for information on all the different types you might come across.
Once you have completed the resource you should see a message appear on screen telling you so. You can leave the resource whenever you like by clicking the "Back" button on the sidebar. This will take you back out to the last place you were before clicking on the resource - in this case, back to Bongo Beach.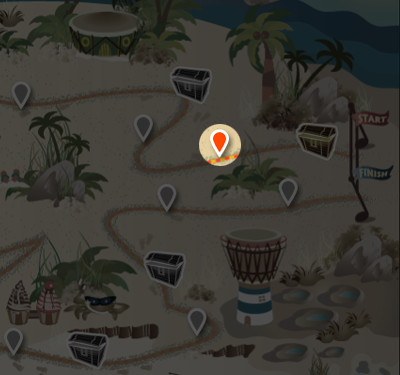 5) Now we're back on Bongo Beach you can see that the next step on the path has lit up, ready for us. You can click on that step in the same way as we did for the first one, and continue to work your way along the path. Good luck!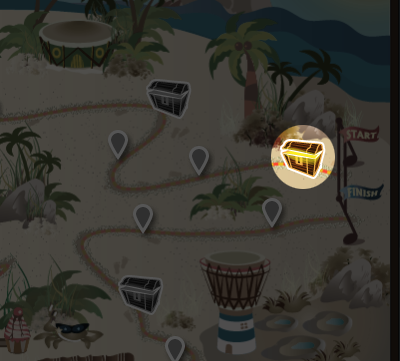 6) During your travels you might come across treasure chests. These contain lots of resources for you to use.
When you open a treasure chest you'll see all the available resources shown as tiles. Clicking on one of these tiles launches a resource, just like before. You can work through these just like we did in steps (4) and (5).
Just like on the maps, you'll see some of the tiles have stars on them. A treasure chest has up to 3 stars available for completing all the resources inside it.
The difference in a treasure chest is that you don't have to complete all the resources. You only need the first star in order to unlock the next step on the map. If you want you can just earn that one star, close the treasure chest and move on. However, there's always loads more to learn in a treasure chest - and special rewards for doing so!
If you don't fancy doing all the resources at once you can always close the treasure chest and come back later.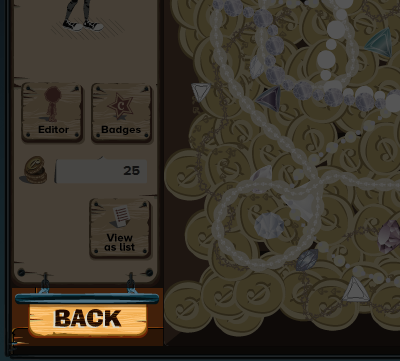 7) Lastly, you can zip back up to other levels by clicking the "Back" button on the sidebar.